The Randy Potter School of Piano Technology is a complete correspondence school offering home-study lessons on:
piano tuning
repair
regulating
voicing
apprentice training
business practices
dealer and manufacturer relations
Students learn much more than how to service pianos. They are prepared with everything they need to start and operate their own lucrative piano service business!
Distance Learning: Wherever, whenever!
We understand that our students have a life – a job, a family, and other obligations that don't allow them to travel far or commit to a traditional school roster. The Randy Potter School allows you to study piano technology wherever you live – whether you're in Toledo or Tokyo – and whenever it best suits your schedule.
The course is designed to be completed within 6-12 months. Students work at their own pace through the Randy Potter School's extensive training manual, video series, and other course material. Some of the most thorough written material available on the subject is supplemented with hundreds of detailed photos, diagrams, and video content. If you have any questions as you work through the course exercises, just turn on your TV and watch as a Registered Piano Technician guides you through each step. RPSPT additionally offers student assistance and technical support by phone or email.
Students also receive tools, parts, repair supplies, and models so they can physically touch and get hands-on experience with the processes and techniques they are learning. The Randy Potter School additionally offers students access to its Resource Library which includes over 50 extra DVDs and a variety of electronic tuning equipment available to loan.
Learn more about included course material and the RPSPT Resource Library.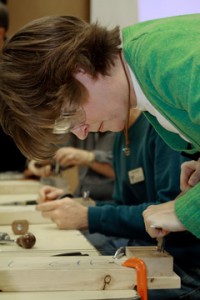 All Skill Levels Welcome
The RPS Home Study Course begins at square-one and takes students all the way through passing their Piano Technicians Guild exam, to concert work, and beyond. We also offer an Intermediate and Advanced track for current piano technicians interested in improving and refining their skills. Some of our students have been tuning pianos for as long as 30 years, but there's alway more to learn!
Throughout the year, RPS runs a variety of Hands-On Training Seminars. These one-week, 60-hour seminars offer intensive, one-on-one training for working piano technicians and students who have completed at least 1/2 of our home-study course. It's a great opportunity to take your skills to the next level.
Learn more about our Hands-On Training Seminars.
Why Piano Tuning?
People of all ages (RPS has graduates as young as 13 and as old as 82!) can attest to the value of the training they received through the home study course, as well as the exceptional earning potential for well-trained and competent tuner-technicians. High school and college students have been able to use their newfound skills to pay their way through school, parents have been able to provide a generous second income to support their growing family, and retirees have been able to supplement or even surpass their fixed income.
There is a real need for competent piano technicians. Today, less than 10% of people working in the piano tuning and repair industry have received any formal piano technology schooling. Randy Potter School graduates easily stand above the competition and are highly sought out for their top-quality service.
Read testimonials from Randy Potter School graduates.